Frequently Asked Questions
Click one of the three options below for a list of frequently asked questions
How do I know if I'm eligible to receive meals?
Senior citizens who live in Claremont are automatically eligible. Other Claremont residents may be eligible if they are experiencing a disability or a chronic illness. We are not currently accepting new clients who reside in cities other than Claremont, but we can provide referrals to similar services in other areas. To be absolutely certain whether you are eligible or not, contact us.
How do I sign up to receive meals?
Either use one of the "contact" methods available on this website or call 909-621-4018. If you are asked to leave a message when you call, speak slowly and clearly. Ideally, leave your phone number twice to ensure that we can transcribe it accurately.
If I sign up, do I have to get meals every day?
Most clients receive meals Monday through Friday. However, it's possible to skip meals during the week on a regular basis if you prefer. For example, you might want to receive meals only on Mondays, Wednesdays, and Fridays. That is perfectly okay! If you sign up for a schedule of this nature, you will only be billed for the meals you request.
Can I skip a meal "on the spur of the moment" if I won't be home, like for a doctor's appointment?
Yes, you can skip a daily meal if you call the kitchen prior to 9:30 a.m. on the day of the delivery. However, since we have already paid to have the food prepared, you will still be billed for this meal.
How do I pay for meals?
You will be asked to pay a small amount in advance, when you sign up, that will cover the cost of meals for the remaining portion of the month in which you start. From that point on, you will be billed on a monthly basis. Bills will be delivered to your home by our driver, usually on the first Monday of the month, and you may return your payment in the envelope provided to another driver on a subsequent day. You do not need to mail in your payment.
How much do the meals cost?
The regular price is $4.50 per meal. A reduced rate is available for those who qualify due to low income. Your intake volunteer will have the required information.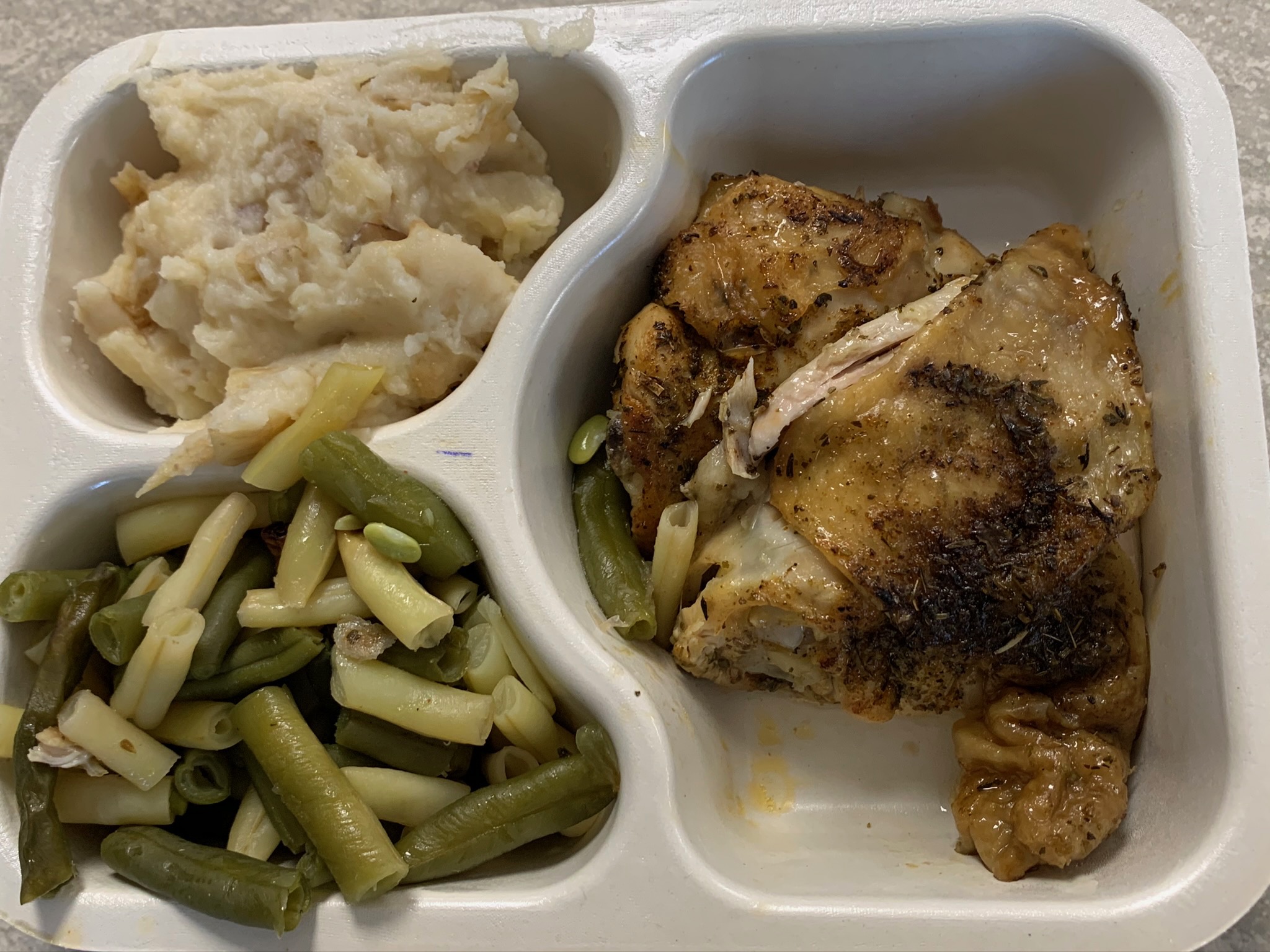 Are the lunches tasty?
One client told us that "They're not the Olive Garden, but they're pretty good."
What do the lunches consist of?
The hot part of the meal consists of a protein (frequently but not exclusively chicken), a vegetable, and a starch. The cold part of the meal consists of bread and butter, milk, salad with dressing, and a dessert.
May I request certain types of meals, or does every client receive exactly the same thing?
Clients may request "no ham or pork," and it's also possible to get fruit rather than a sweet dessert. Our policy regarding special meals is currently under review. When you sign up, your intake volunteer will provide you with current information about any options that are available.
How do I cancel meal service if I choose to discontinue?
Just call our kitchen at 909-621-4018 and let us know that you want to cancel. We make changes to our delivery schedule only once a week, so your cancellation will take effect on Monday following your notice if we get your message before the previous Friday at noon.
Can I request a wellness check if you are unable to deliver a meal?
If you are a Claremont resident and we are unable to contact either you or the person you have designated as your emergency contact, we can initiate a wellness check IF you authorize this at the time you sign up. If you don't authorize it, we can't do it.
If I put the meal delivery "on hold" temporarily (due, perhaps, to an unanticipated stay in a hospital or a short trip), do I still have to pay for the meals?
The answer depends on when you notify us to place your meals "on hold." We order our food in advance and must pay for what we order. Therefore, if you cancel without sufficient notice, we still need to charge you. If you wish to avoid being charged, you must notify us no later than Friday at noon for any changes that you want to take effect the following week. Please notify us by calling 909-621-4108.
If you notify us in advance as specified above, your next month's bill will be adjusted for meals that you decided to skip. Also, if you have a medical emergency and are hospitalized for two days or more, then your next month's bill will also be adjusted.
Why is volunteering for Claremont Meals on Wheels so important?
We're an all-volunteer organization, operating without paid staff. We couldn't provide meals to clients without volunteers. It's that simple.
What are the volunteering positions available?
Most of our volunteers serve as packers or drivers. Some drivers prefer to deliver alone, and others prefer to have a "navigator" (helper) with them. Day Captains, at a more advanced level, coordinate the activities of the packers and the drivers and act as a resource when non-routine events present themselves.
What will I be doing when I volunteer?
Packers transfer food delivered to our kitchen in large quantities into individual servings. Drivers deliver food to clients, sometimes with assistance from another volunteer and sometimes alone.
Will I be expected to volunteer on weekends? On holidays?
Claremont Meals on Wheels delivers Monday through Friday without exception (i.e. including ALL holidays).
Will I have a set schedule when I volunteer?
Generally, yes. Most volunteers sign up for two shifts per month, e.g. second and fourth Wednesdays of each month. The schedule takes your availability into consideration, so you can avoid conflicts with other commitments.
How do I sign up to volunteer?
Contact us either by calling the kitchen at 909-621-4018 or sending a message using one of the email addresses provided in this website. Ideally, complete the online Volunteer Application form available at the bottom of the "Volunteer" page. You may also use the "Contact Us" page and fill out that form. In any case, you will be contacted by a Meals on Wheels representative, usually within two days.
Do I need a car to volunteer?
You only need a car (and car insurance) if you will be driving to deliver meals.
Are the volunteers responsible for cooking the food?
No, Mt. San Antonio Gardens cooks all of the food. The volunteers put the meals together for delivery.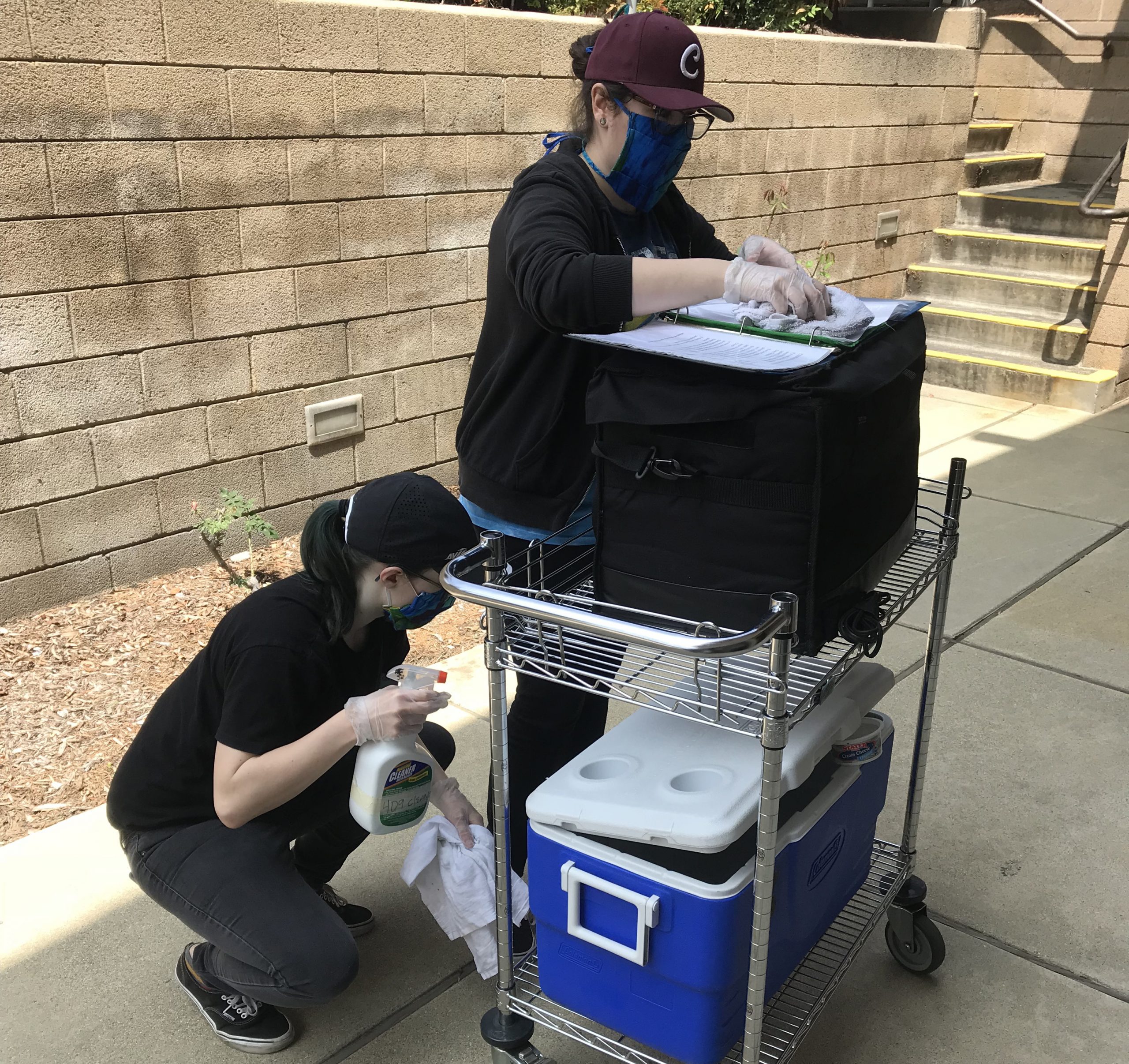 What do I do if I have to miss a regular, scheduled shift?
We ask volunteers who have signed up for regular shifts to find their own substitutes from an approved list if they are unable to participate on any given day. No worries—it happens to all of us! And if you can't find a sub from the list, just notify the Volunteer Coordinator and appropriate arrangements will be made.
How is Meals on Wheels ensuring social distancing with volunteers and clients?
Only four volunteers are allowed in our kitchen at any one time, and they all wear masks, gloves, and head coverings (hairnets or hats). Those who deliver do not hand meals directly to clients; they put the meals into coolers outside the house (or apartment) or onto a flat surface outside the residence provided by the clients.
Do I have to go into the clients' homes?
While COVID-19 presents a threat to the health and safety of volunteers and clients, we are utilizing a "contactless" meal delivery system. You will maintain a minimum six-foot distance from clients at all times.
Where do I go to pack or to pick up the meals for delivery?
Meals on Wheels operates out of a small "kitchen" in the Mt. San Antonio Gardens complex, near the corner of Towne and Bonita in Pomona (within a stone's throw of Claremont). Precise directions to the facility will be provided after we receive your Volunteer Application and before your orientation meeting with the Volunteer Coordinator.
Can I bring my child with me to deliver the meals?
A few drivers do bring a child with them. They feel it's a good experience for their child to learn the importance of volunteering at an early age. Children must be carefully supervised at all times, and they must follow all appropriate safety regulations.
What do I do if no one answers the door when I try to make a delivery?
Specific instructions on how to deliver meals are provided during the orientation and training sessions attended by new volunteers. Specific procedures for all possible scenarios are provided.
What do I do if there is an emergency while I am out delivering to clients?
That depends what kind of emergency. Day Captains are always available to assist with unexpected delivery issues.
Do you reimburse for mileage?
No. However, mileage that you drive while volunteering for a nonprofit 501(c)(3) organization may result in a tax benefit. (Claremont Meals on Wheels is a 501(c)(3) organization.) Consult your tax advisor for more information.
If I am unable to volunteer my time, is there another way to help Claremont Meals on Wheels?
Yes! The meals themselves, plus the required packaging, cost more than we charge our clients. So we always need donations to help us make ends meet. Please go to the "Donate" page for more information.
I'd like to help but am unsure how much to give. Can you provide any guidance?
We receive donations from individuals ranging from $10 to $5,000. Any amount you wish to give will be greatly appreciated. We encourage you to consider a monthly recurring donation that will be charged to your credit card automatically. Even $5 per month adds up to a significant contribution over time and helps bridge the gap between the actual cost of our meals and the amount that clients pay in service fees—an amount we keep as affordable as possible since most of our clients are on a fixed income.
What's the best way to give?
Many people like giving online because it avoids the hassle of writing a check and putting it into the mail. The simplest way to give is to use the "Donate Now" button on the "Donate" page of this website. However, if you want to send a check, that's fine. Address your check to: Treasurer, Claremont Meals on Wheels, c/o Claremont Meals on Wheels, P.O. Box 1826, Claremont, CA. 91711
How will you use a donation if I send one?
We have no paid staff, and our administrative expenses (telephone, insurance, etc.) are extremely low—less than 10% of total expenses. Therefore, any donation you make goes primarily toward the cost of providing meals to clients at affordable rates that are not sufficient to cover actual costs.
Are donations to Claremont Meals on Wheels tax deductible?
Donations are deductible to the extent permitted by law for contributions to nonprofit organizations with IRS 501(c)(3) status. Consult your tax advisor for details.